World shares were on their longest losing streak of the year on Wednesday, as a rise in U.S. bond yields above 3 percent and warnings from top global firms about rising costs fed fears a boom in earnings may have peaked.
All eyes will be on scandal-hit social media firm Facebook later when it reports its results though there was plenty keeping investors occupied till then.
Falls in Asia's and then Europe's main bourses pushed the 47-country MSCI world share index down for a fifth day running to its lowest level in over two weeks.
Tech-heavy Taiwan shares had hit two-month lows as global worries about a slowdown in gadget demand spread, while fast charging oil firms also eased back as crude prices LCOc1 came off 3-1/2 year highs.
The benchmark U.S. 10-year Treasury yield was still pushing further beyond 3 percent in early European trade though, having broken the key level on Tuesday for the first time since the start of 2014.
It has been down to a mix of factors. A strong U.S. economy and rising commodity prices which are upping the chance of more U.S. interest rate hikes, as well higher debt and improving relations between Washington and China and North Korea.
"The now healthier global economy justifies these higher yields," said JPMorgan Asset Management's Seamus Mac Gorain.
"We expect 10-year Treasuries to end the year between 3 and 3-1/2 percent. A move beyond this level would likely require an acceleration of inflation in the euro zone and Japan, which is not yet evident."
Euro zone bond yields — yields are a proxy of borrowing costs — were dragged up in the slipstream of the U.S. moves though Thursday's looming European Central Bank meeting ensured there was a touch of caution.
Markets want to know when the ECB plans to wind down its 2.55 trillion euro stimulus program. One of its policymakers, France's Francois Villeroy de Galhau, said on Tuesday the weaker run of recent economic data was expected to pass.
The pan-European STOXX 600 equity index was last down 0.6 percent, as worries over rising bond yields trumped a slew of well-received earnings updates from Kering and Credit Suisse.
S&P E-mini futures ESc1 slipped 0.2 percent too. Wall Street shares had skidded on Wednesday, with the S&P 500 slumping 1.34 percent, the most in two-and-a-half weeks.
Industrial heavyweight Caterpillar beat earnings estimates due to strong global demand but its shares tumbled 6.2 percent after management said first-quarter earnings would be the "high water mark" for the year and warned of increasing steel prices.
"We've seen quite a lot of companies announcing above-estimate earnings and their shares falling sharply," said Norihiro Fujito, senior investment strategist at Mitsubishi UFJ Morgan Stanley Securities.
Reuters data shows that analysts are now estimating bumper 21.1 percent growth in the Jan-March quarter among U.S. S&P500 firms.
Fujito noted major financial shares such as Goldman Sachs and Citigroup as well as Google parent Alphabet GOOG.N, the first major tech firm to report earnings, have followed a similar pattern.
"The market reaction so far feels as if we are starting to see an end of its long rally since 2009. Investors could be thinking that the best time will be soon behind us," he said.
EMERGING PRESSURE
Creeping gains in U.S. Treasury yields are also fuelling nerves that portfolio managers may move money into safer fixed-income securities at the expense of riskier assets like stocks and emerging markets.
The 10-year U.S. Treasuries yield rose to as high as 3.02 percent. A break of its January 2014 high of 3.041 percent could turn investors even more bearish.
Taiwan Stock Exchange Corp
10697.13
.TWII
TAIWAN STOCK EXCHANGE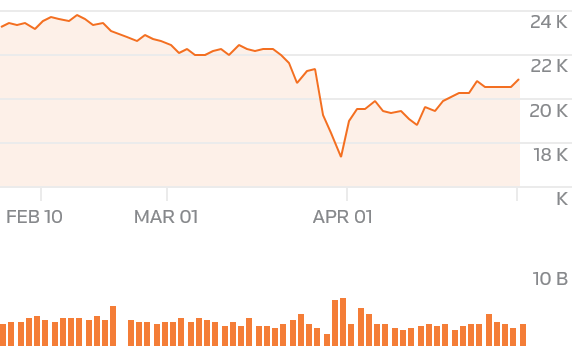 Fed Funds rate futures prices have been constantly falling this month, pricing in a considerable chance of three more rate hikes by the end of this year.
The impact is already reverberating in many emerging markets, with JPMorgan's emerging market bond index hitting a two-month low.
Turkey's central bank holds what is seen as a crucial rate decision later. The lira has tumbled to all time lows this year, spiking up inflation and anything less that a 50 basis points hike in its rates to 13.25 percent could rattle its markets again.
In Indonesia, a market with one of the largest exposures to foreign portfolio holdings, the authorities have been intervening heavily to put a floor under the rupiah, which has been flirted with two-year lows.
The Indian rupee hit a 13-month low too while China's yuan has eased back in line with its bond yields as it has tweaked its policy settings.
The dollar also continued gaining against the major currencies.
It traded at a new 2-1/2-month high of 109.21 yen and knock the euro back to $1.2205, not far from Tuesday's more than 1-month low of $1.2182.
Oil prices were nudging north, but were below the more than three-year highs hit in the previous session as rising U.S. fuel inventories and production weighed on an otherwise heavily bullish market.
Brent LCOc1 fetched $74.01 a barrel, up 15 cents. West Texas Intermediate (WTI) crude CLc1 traded flat $67.88 while aluminum sagged another 1.3 percent as it continued its recent sanctions-driven rollercoaster run.
Source