U.S. services sector activity slowed slightly in February, held back by a sharp pull back in employment growth, but a surge in new orders to a 12-1/2-year high pointed to underlying strength.
The Institute for Supply Management (ISM) survey released on Monday also showed supply constraints emerging. Suppliers are taking longer to deliver materials, order backlogs are building up and raw material prices are rising.
The ISM said its non-manufacturing activity index slipped 0.4 point to a reading of 59.5 last month. A reading above 50 indicates expansion in the sector, which accounts for more than two-thirds of U.S. economic activity.
The survey's measure of services sector employment dropped 6.6 points to 55.0, while a gauge of new orders jumped 2.1 points to the highest level since August 2005. A sub-index for export orders increased solidly last month.
Economists were unperturbed by the drop in services industry employment last month, noting that January's increase had pushed the index to unsustainable levels. They continued to expect solid job growth in February.
"The index remains loosely consistent with private services payrolls rising at a 200,000 monthly pace," said Andrew Hunter, an economist at Capital Economics.
The Labor Department is scheduled to publish February's employment report on Friday. According to a Reuters survey of economists, nonfarm payrolls likely increased by 200,000 jobs last month, matching January's gain.
A strong employment report could cement expectations of an interest rate increase from the Federal Reserve at the March 20-21 policy meeting. It would also strengthen views that the U.S. central bank would raise its 2018 rate hike forecast to four times to three at end of that meeting.
Prices for U.S. government bonds were trading higher, pushing yields down as investors worried about a global trade war in the wake of President Donald Trump's announcement last week of plans to impose hefty tariffs on steel and aluminum imports.
The dollar was little changed against a basket of currencies. Stocks on Wall Street were mostly lower, with the Dow Jones Industrial Average .DJI falling for the fifth straight day.
Dow Jones & Company Inc
24538.06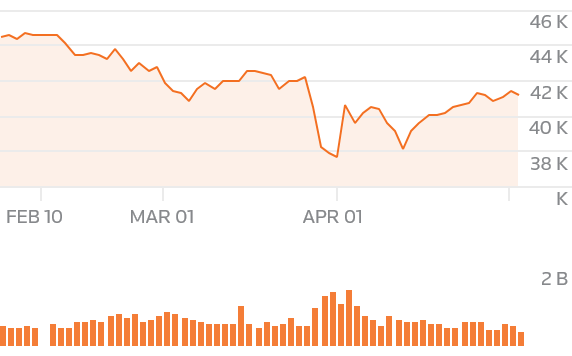 The ISM said 16 industries, including utilities, wholesale trade, finance and insurance, professional, retail trade and information reported growth last month. The two industries reporting contraction were arts, entertainment and recreation, and accommodation and food services.
Businesses in the construction sector said"lumber-related costs continue to increase as supply is also starting to become a problem." The higher lumber prices could be the result of tariffs on Canadian softwood lumber imposed by the Trump administration last November.
There were also reports of rising prices in the finance and insurance, mining and accommodation and food services industries.
The ISM's prices paid index slipped 0.9 point to a still lofty reading of 61.0 in February. A measure of supplier deliveries was unchanged last month with the trend pointing to a slowdown. Backlog orders surged 5.5 points to a reading of 56.0.
"Further evidence of supply constraints can be seen in labor, which has been reported in short supply by nonmanufacturers for seven straight months," said John Ryding, chief economist at RDQ Economics in New York.
"For a perspective on the potential disruptions from tariffs, aluminum and steel were both reported up in price, for two and five months, respectively."
Source