World stocks steadied on Tuesday after three sessions of losses thanks to strong earnings from the likes of Google and as a rise in U.S. bond yields towards the key 3 percent level stalled, while oil prices stretched to fresh highs above $75 a barrel.
European stocks opened broadly higher with blue-chip stock markets in London and Frankfurt 0.3 percent higher, while shares in Paris were flat.
Markets brushed off further signs that Europe's biggest economy Germany is losing some of its momentum, with the Ifo business climate index falling in April.
In Asia, Japan's Nikkei added 0.9 percent as a lower yen supported export-heavy firms and Chinese shares posted their strongest gains in two months.
That left MSCI's world equity index marginally higher on the day after three days of declines.
The recovery in stocks came as bond markets also bounced back from a selloff. U.S. 10-year Treasury yields came within striking distance of the key psychological barrier of 3 percent on Monday, a level in the past that has triggered market spasms.
"The U.S. yield spike story has been a theme for the last 24 hours but we don't expect a sharp surge as the U.S. continues to be in a late economic cycle," said Christin Tuxen, a currency strategist at Danske Bank.
Earnings meanwhile, especially from the tech sector, were in focus after a turbulent few months for leading U.S. tech firms.
Google parent Alphabet was up slightly in volatile after-hours trading on Monday after the tech giant reported a 73 percent jump in profits in the first quarter.
Chipmaker AMS reported first-quarter sales towards the lower end of its guidance range on Monday and warned of a downturn owing to weaker orders from one of its main customers.
AMS did not name the customer, but the Austrian company is a big supplier to Apple, making components for the iPhone.
SAP SAP.G, Europe's largest tech company by stock market valuation, announced upbeat results in the seasonally tough first quarter.
Of around 18 percent of the companies in the S&P 500 that have already reported, 78.2 percent beat consensus estimates.
OIL SURGE
Brent crude oil rose for a sixth day to hit its highest since November 2014 at over $75 a barrel LCOc1, buoyed by expectations that supplies will tighten just as demand reaches record levels.
Brent's six-day rising streak is the longest such string of gains since December, with prices up more than 20 percent from 2018 depths plumbed in February.
U.S. West Texas Intermediate crude futures CLc1 were at $69.15 a barrel, up 0.7 percent. On Thursday, WTI rose to its strongest since Nov. 28, 2014 at $69.56.
A rally in oil and crude prices and renewed focus on the inflation outlook has added to upward pressure on bond yields recently.
"It is this move higher in crude oil prices, along with the rise in demand, that is helping fuel the recent rise in yields as well as the positive tone for equity markets," said Michael Hewson, chief market analyst at CMC Markets in London.
FTSE International
7398.87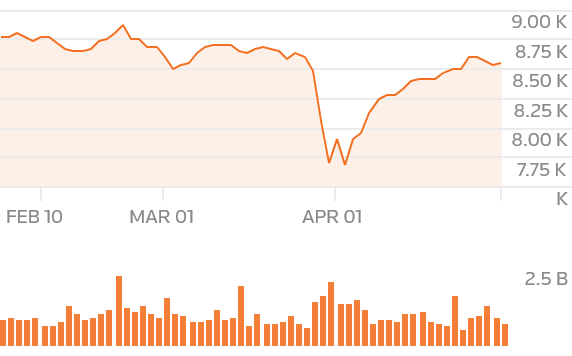 "However if it continues too far we could start to see it act as a drag on equity markets, if prices along with yields start to move even higher."
DOLLAR SHADE FIRMER
The fallout from rising U.S. bond yields, which have helped lift U.S. financial stocks, was also felt in currency markets.
The euro fell to a two-month low as concerns that rising U.S. Treasury yields would push the currency to break below a range it has been stuck within most of this year, prompting hedge funds to unwind some of their record long bets.
It stabilized around $1.22, having plumbed to a low of $1.2185 in Asia, its lowest since March 1.
The dollar set a two-month high of 108.87 yen and was holding near those levels.
In commodities, aluminum extended losses after tumbling 7 percent on Monday, its biggest one-day drop in eight years.
Three-month aluminum on the London Metal Exchange CMAL3 last stood at $2,255 per tonne after the United States extended the deadline for sanctions on Russian aluminum producer Rusal.
Source