The GBP/USD is trading under $1.3900, down on the day but sticking to known ranges.
A new EU draft on Brexit offers the UK banks limited access to markets.
The technical picture points to further falls for the pair.
The GBP/USD is trading around $1.3895, closer to the daily lows than the daily higher of $1.3915. The British Pound remains pressured as Brexit clouds loom. The most recent development is a new EU draft document that outlines trade in services.
The draft states that the UK will be treated as a third country and will not be given a special treatment. British financial firms may operate in the continent, but only under the rules of the country that hosts them. Financial services is a sensitive issue for Britain as it is a booming sector that has a trade surplus with Europe, the only such sector to enjoy such a surplus.
The UK wanted a better agreement but the EU sticks to its "no cherry picking" scenario.If agreed upon, such institutions will conduct business under two regulatory entities. Moreover, Goldman Sachs will be moving some staffers in London to Frankfurt, perhaps leading the way for others.
The primary theme in wider markets is Trump's tariffs. The President is doubling down on his stance to fight a war trade which he endorses. Moreover, the chief economic advisor Gary Cohen has decided to resign, EU officials are also busy on that front, suggesting ways to retaliate to these tariffs by imposing counter-tariffs. The talk about a trade war is not helping the pound.
Yesterday, the GBP/USD advanced on news from the Korean peninsula. Talks are moving forward quite well, with North Korea offering to relinquish its nuclear weapons in return for safeguards for the regime. The mere willingness to address the issue has boosted the risk currencies such as the pound.
The economic calendar is quite light for today and sentiment will continue moving the markets.
GBP/USD Technical Analysis – Bearish
The GBP/USD is trading in a clear downtrend, as the chart shows. It is posting lower lows and lower highs. The RSI is slightly negative and Momentum leans to the downside. Support is found at $1.3770, the low of February 9th and this is followed by $1.3710, the low of March 1st.
Looking up, $1.3930 capped the pair on Tuesday and it is followed by the round level of $1.4000.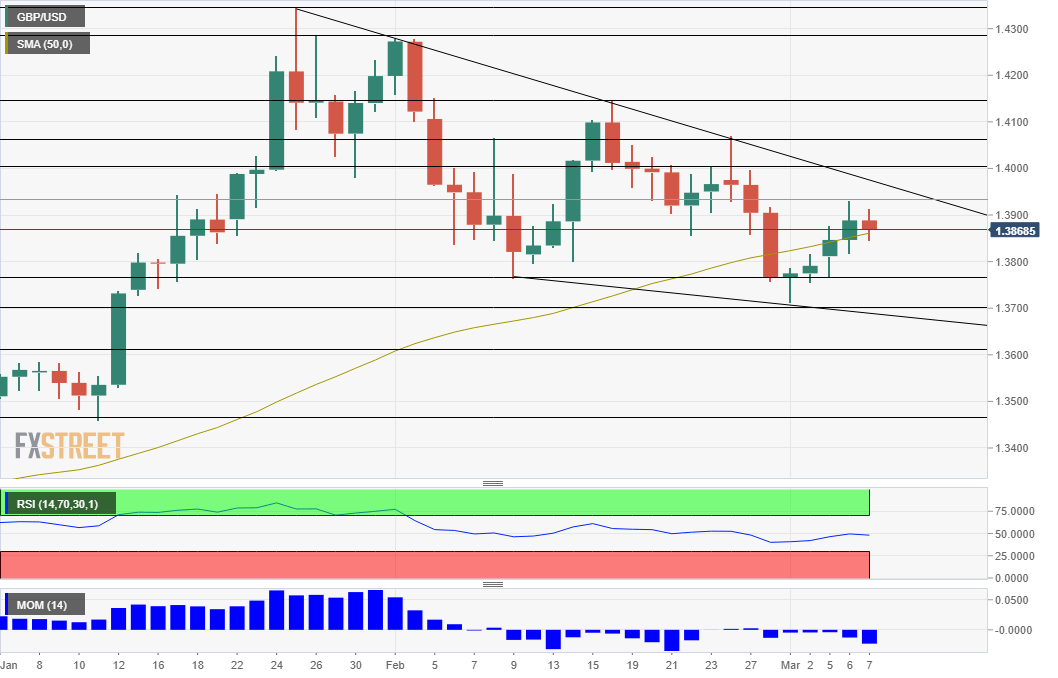 Source