U.S. stock index futures edged higher on Thursday on expectations of strong corporate earnings, looking past geopolitical risks and concerns about faster interest rate hikes.
The world's largest asset manager BlackRock Inc reported a better-than-expected profit, kicking off the first-quarter earnings season. Its shares were up 1.7 percent in premarket trading.
Analysts expect quarterly profits for S&P 500 companies to rise 18.5 percent from a year ago, the biggest gain in seven years, according to Thomson Reuters I/B/E/S.
By 7:01 a.m. ET, Dow e-minis 1YMc1 were up 126 points, or 0.52 percent, S&P 500 e-minis ESc1 rose 14.5 points, or 0.55 percent, and Nasdaq 100 e-minis NQc1 gained 40 points, or 0.61 percent.
BLK.N
NEW YORK STOCK EXCHANGE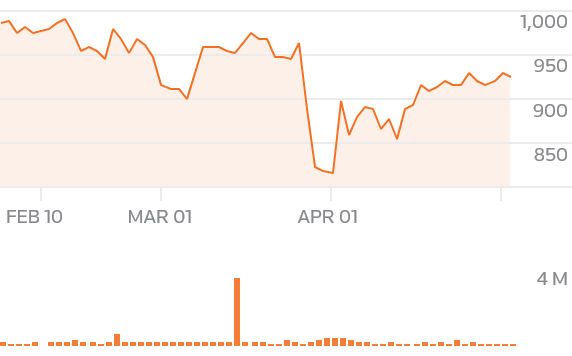 Financial markets lost ground on Wednesday after U.S. President Donald Trump warned Russia of imminent military action in Syria over a suspected poison gas attack, declaring that missiles "will be coming".
On Thursday, Trump toned down his threats, tweeting "Never said when an attack on Syria would take place. Could be very soon or not so soon at all!"
Trump also denied a newspaper report that he had planned to fire U.S. Special Counsel Robert Mueller late last year. Mueller has been tasked with investigating allegations of Russian meddling in 2016 U.S. presidential election.
Markets were also weighed down by the Federal Reserve's March meeting minutes that showed all the central bank policymakers felt the U.S. economy would firm further and that inflation would rise in the coming months.
Among stocks, Bed Bath & Beyond dived more than 15 percent after the company provided lower-than-expected full-year profit forecast.
Shares of Delta Air Lines were marginally up after the U.S. carrier reported a rise in quarterly revenue.
Source