U.S. stock index futures were flat on Thursday as investors remained on edge about the U.S.-China trade talks, while the latest round of earnings added little cheer.
Among early decliners were AIG, which dropped 5.6 percent after the insurer reported a lower-than-expected quarterly profit.
Tesla shed 5.1 percent, extending losses from Wednesday after Chief Executive Officer Elon Musk cut off analysts asking about the company's profit potential, despite promises that production of the troubled Model 3 electric car was on track.
At 7:31 a.m. ET, Dow e-minis 1YMc1 were up 5 points, or 0.02 percent. S&P 500 e-minis ESc1 were up 1.5 points, or 0.06 percent and Nasdaq 100 e-minis NQc1 were up 1.5 points, or 0.02 percent.
Wall Street closed lower on Thursday, weighed down by news about potential U.S. restrictions on Chinese telecommunications companies, and after the Federal Reserve reaffirmed outlook for more rate hikes.
However, the Fed statement gave no hints as to when the fourth rate hike would happen this year.
The central bank expressed confidence that a recent rise in inflation near to its target would be sustained, leaving it on track to raise borrowing costs in June.
American International Group Inc
54.84
AIG.N
NEW YORK STOCK EXCHANGE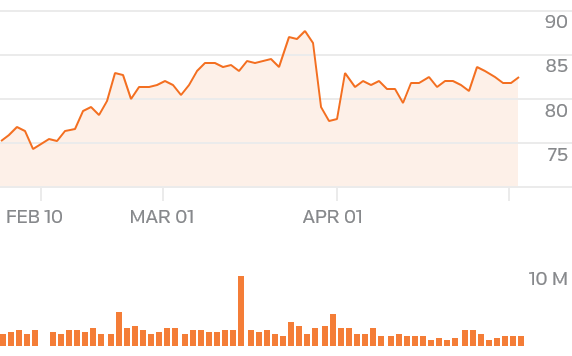 However, the Fed emphasized the inflation target was "symmetric", suggesting it was not inclined to speed up its tightening plans.
The focus now shifts to trade issues between U.S. and China as a Trump administration delegation, including Treasury Secretary Steven Mnuchin, visits Beijing for negotiations.
A breakthrough trade deal with China is highly unlikely, though a package of short-term Chinese measures could delay a tariff decision.
First-quarter earnings continued to come in strong, with nearly 80 percent of the 343 S&P 500 firms that have reported so far, topping profit estimates.
Despite that, the rewards to profit beats have been subdued as investors worry that earnings may have peaked, after bellwethers including Caterpillar flagged concerns about rising costs.
Caterpillar was down 0.8 percent after BofA Merrill Lynch downgraded the stock to "neutral", citing slowing retail sales and peaking Class 8 truck orders.
Kraft Heinz rose 3.7 percent after its quarterly profit beat expectations, benefiting from U.S. tax changes and price hikes to counter higher input costs.
Source