The EUR/USD has been punished by Powell and fell to a 6-week low.
After losing uptrend support, the pair is still battling another essential line.
The EUR/USD is trading just above the $1.2200 level after making a quick dip under it. The driver of the US Dollar is Fed Chair Jerome Powell.
In his highly anticipated testimony on Tuesday, Powell hinted that the Fed might raise rates more than three times in 2018. The Fed's forecast for interest rates, aka the dot-plot, indicated three rate hikes back in December. When asked about it, Chair Powell said things have changed and listed only positive developments, hinting at further hikes. The US Dollar advanced across the board, sending the EUR/USD to the lowest levels since early January.
Since then, we received a few economic indicators from the euro-zone. The flash CPI report showed that headline inflation is down to 1.2 percent YoY as expected. Core CPI remained unchanged at 1.0 percent, also according to projections. French GDP was upgraded on an annual basis to 2.5 percent, and the number of the unemployed in Germany fell by 22,000, slightly better than had been expected.
In the US, Q4 GDP was revised marginally down to 2.5 percent annualized, as forecast. All in all, the data on both sides of the Atlantic did not provide surprises. The echoes from Powell's testimony are still being heard.
Powell will speak again on Thursday at 15:00 GMT, this time in front of a Senate Committee. Also, the US releases the Fed's favorite inflation figure, the Core PCE Price Index, as well as the ISM Manufacturing PMI.
EUR/USD now leaning lower, but one line is left
The EUR/USD has lost the upside bias. The pair fell below the $1.2205 low seen in mid-February, thus creating a lower low. Moreover, the pair broke below the uptrend support line (purple on the chart). The RSI, which was slightly above 50, is now below this threshold, marking a downturn.
The one line that could provide further support is the 50-day Simple Moving Average on the daily chart, which comes at $1.2213. The pair continues battling this level.
Further support awaits at the early January low of $1.2160, followed by $1.2090, the 2017 peak. On the upside, $1.2260 was a low point in recent days, and it is accompanied by $1.2360, the peak of the last range.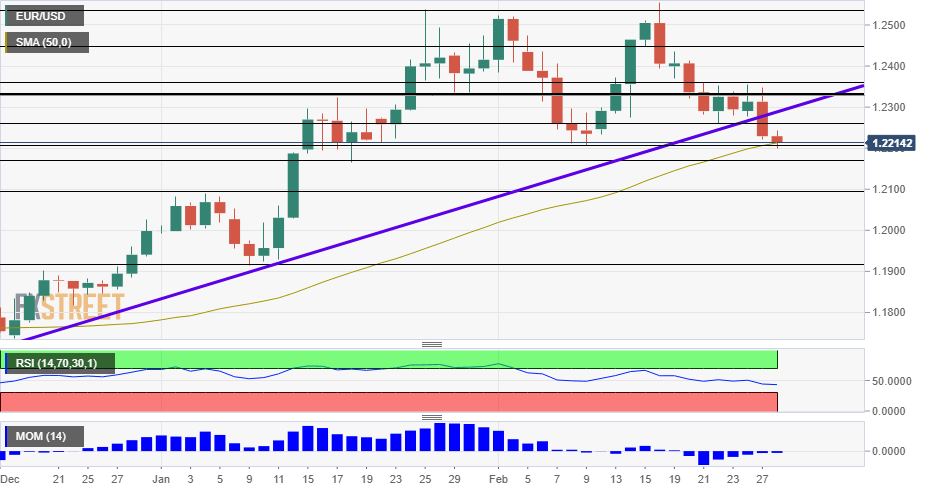 Source