Oil prices fell sharply and government bond yields rose on Monday on expectations that the weekend's missile attacks on Syria would not mark the start of greater Western involvement in the conflict.
European shares were broadly flat, however, adding to a mixed picture in Asian stock markets and suggesting that a degree of caution prevails.
While last week's bid for investment safety in top-rated government bonds unwound, other traditional havens in times of global political tension held firmer. Gold prices were little changed, while Japan's yen and the Swiss franc were higher than levels late on Friday.
"There is some relief that a direct confrontation between the U.S. and Russia over Syria has been avoided," said DZ Bank rate strategist Daniel Lenz after Russian President Vladimir Putin warned on Sunday that further Western attacks in Syria would bring chaos to world affairs.
Saturday's strikes marked the biggest intervention by Western countries against Syrian President Bashar al-Assad and his ally Russia, which is facing further economic sanctions over its role in the conflict.
The United States, Britain and France said the missile strikes targeted Syria's chemical weapons capabilities and were not aimed at toppling Assad or intervening in the civil war. U.S. President Donald Trump tweeted "mission accomplished" after the attack, underlining expectations that Western action would be limited.
However, while President Putin warned on the potential impact on world affairs if there were further Western strikes on Syria, U.S. ambassador to the United Nations, Nikki Haley, said the United States would announce new economic sanctions on Monday aimed at companies "dealing with equipment" related to Syria's alleged chemical weapons use.
European and U.S. government bond yields — which move inversely to prices — rose across the board. That was partly as attention turned to what is expected to be a robust first-quarter U.S. corporate earnings season, which begins in earnest this week.
The yield on both German and U.S. 10-year government bonds, seen as among the most liquid and safe assets in the world, were at their highest levels in three weeks.
Oil prices, meanwhile, dropped sharply. Brent crude LCOc1 shed more than 1.5 percent to $71.45 a barrel, with a rise in U.S. drilling for new production also dragging on prices.
MSCI's world equity index .MIWD00000PUS, which tracks shares in 47 countries, was flat on the day and a pan-European stock index was marginally lower.
U.S. stock futures were pointing to a higher opening on Wall Street. ESc1
First quarter earnings for U.S. companies will be very important after February's sell-off, said Salman Ahmed, chief investment strategist at Lombard Odier Investment Managers.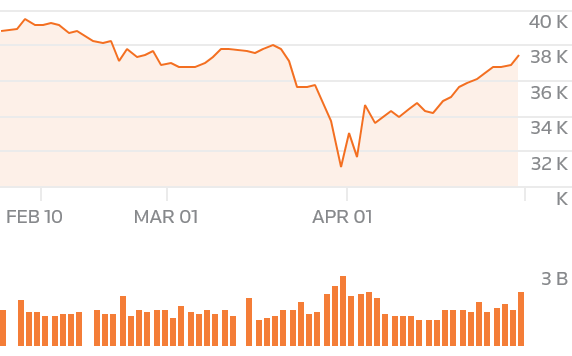 "If there is a genuine dent in earnings, people will sit up and take notice," he said, adding that regulation will be a powerful driver for the technology sector, citing the example of Facebook, as well as the banking industry.
EYEING ABE
The dollar failed to hold its early gains on the yen and eased to 107.20, though that was still up on last week's low around 106.62.
Dealers were keeping a wary eye on Japanese politics after a survey showed support for Prime Minister Shinzo Abe had fallen to 26.7 percent, the lowest since he took office in late 2012.
Abe's sliding ratings are raising doubts about whether he can win a third three-year term as ruling Liberal Democratic Party (LDP) leader in a September vote, or if he might even resign before the party election.
"For markets, the question is whether this matters for economic policy," said Paul Donovan, global chief economist at UBS Wealth Management. "A change in leadership may matter if the next prime minister has a radically different agenda."
Japan's Nikkei rose 0.3 percent while MSCI's broadest index of Asia-Pacific shares outside Japan slipped 0.4 percent as Chinese blue-chips skidded 1.7 percent.
The euro was a touch higher at $1.2357, while the dollar index eased to 89.621.
Source